Furniture
Superior Quality Granite Countertops - Custom Furniture
Granite is such a diverse material, not only can it be used as kitchen or vanity countertops, or as flooring. It can also be fabricated into unique pieces of furniture for the inside or outside of your home.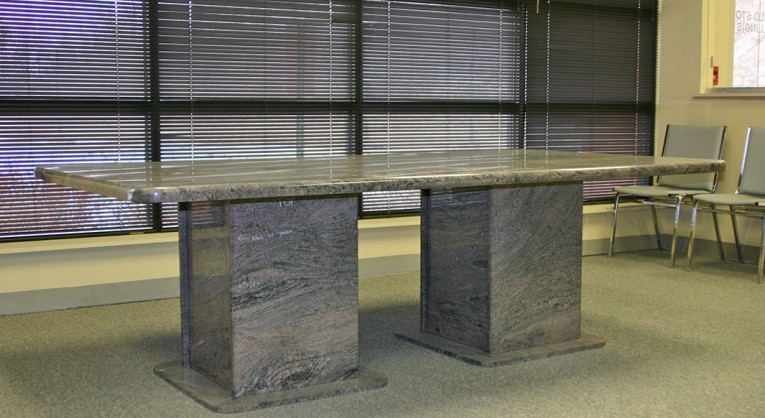 Granite dining tables and granite side tables can really help make a statement and transform a simple family room into something with style and sophistication. With granite colour options so diverse, you can achieve the look you are after.
Granite is very durable and long lasting; therefore, it is an ideal material to incorporate into some outdoor furniture. Creating outdoor kitchens, tables and sitting areas out of granite not only enhance the look of your garden but are also able to deal with our northern climate!
The furniture displayed here is representative of our custom work, and we can create beautiful and practical one-of-a-kind pieces just for you.
Furniture Collection & Product Gallery
NMG Furniture Collection
All products of nature, stone samples are intended to represent the quarry's product. However, the material quarried at one time may differ slightly in colour and veining from a sample or photograph. Even a single granite slab will possess a certain amount of colour variation from one end to the other. Many consumers welcome this variation of natural stone. Because of the unique qualities of granite, we recommend viewing real samples of current in-stock material.
If you are looking for examples of our custom furniture work, simply hit the Furniture Products link to the right for complete custom furniture work.
Please Note: All natural stones are products of nature and vary in color and markings. These variations are characteristics of natural stone and give the material its uniqueness and dramatic beauty. Variations of shade, pattern or color within the same slab or same bundle of slabs are inherent in natural stone and will differ from piece to piece (countertop to countertop, slab to slab). Images may also appear to shift in colour according to your viewing device. As such, we recommend viewing actual material in person to ensure selection satisfaction.