Vanity Countertops
Superior Quality Granite Countertops -  Vanity, Tub & Shower Surrounds
Whether for your ensuite, guest or powder room, kid's or the main bath, granite vanity tops are an attractive and high performance surface in one of the most frequently used areas in your home. Granite vanities can mean a luxurious way to begin and end each day and add to the enjoyment, satisfaction and value of your home.
As typical vanity tops represent a smaller portion of the colour in a room, some clients embrace the opportunity to be bold and adventurous in colour and pattern selections, and personalize the home to your style and tastes.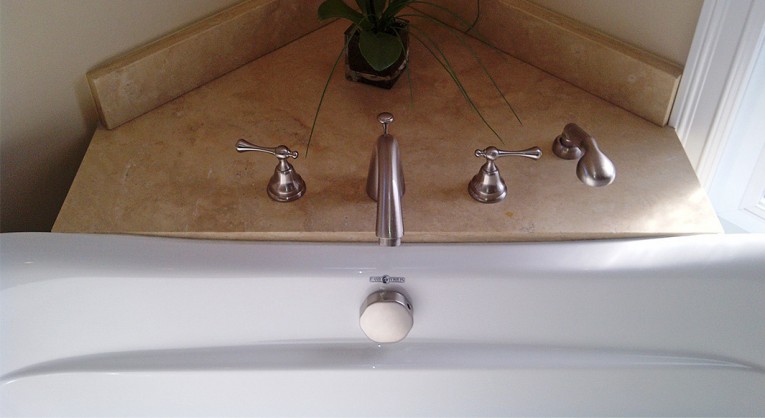 Granite countertops are often one of the most impressive aspects of a renovation or new home build. The craftsmanship and quality of work that goes into your countertops can make the difference between ordinary, and granite countertops that are truly impressive.
Northern Marble And Granite has the skill and experience needed to ensure that your granite countertops are finished to the utmost standards of excellence. Please feel free to browse through the collection of completed customer vanity projects.
Vanity Collection & Product Gallery
NMG Vanity Collection
All products of nature, stone samples are intended to represent the quarry's product. However, the material quarried at one time may differ slightly in colour and veining from a sample or photograph. Even a single granite slab will possess a certain amount of colour variation from one end to the other. Many consumers welcome this variation of natural stone. Because of the unique qualities of granite, we recommend viewing real samples of current in-stock material.
If you are looking for examples of completed bathroom projects, simply hit the Vanity Products link to the right.
Please Note: All natural stones are products of nature and vary in color and markings. These variations are characteristics of natural stone and give the material its uniqueness and dramatic beauty. Variations of shade, pattern or color within the same slab or same bundle of slabs are inherent in natural stone and will differ from piece to piece (countertop to countertop, slab to slab). Images may also appear to shift in colour according to your viewing device. As such, we recommend viewing actual material in person to ensure selection satisfaction.